welcome
threegigabites.blogspot.com
Good Morning/ Afternoon/ Night.
4
G
igabites 2009
Dunman High School
We've got even more memory space. :D
About Us
34Gb
FT: Mdm Cindy Tiong!/ Mrs Low
THE NICE ONE
1 Yi Jing
(THE WHITE ONE)
14 March/ Chinese Orchestra
2 Genevieve
(THE NICE SINGING ONE)
24 May/ Choir
3 Wan Li
(THE TABLE TENNIS PRO ONE)
30 March/ Table Tennis
4 Wei Qi
(THE BOYISH ONE)
16 Febuary/ NPCC
5 Sarah
(THE OUTGOING ONE)
10 May/ Girl Guides
6 Jill
(THE FUNKY ONE)
7 April/ Symphonic Band
7 Jillian
(THE SCANDALOUS ONE)
18 December/ Chinese Orchestra
9 Jia Min
(THE MUMMY ONE)
30 January/ EDS Debate
10 Gillian
(THE DEMURE ONE)
6 January/ Choir
11 Pei Ying
(THE BO CHAP ONE)
15 June/ Track & Field
12 Eunice
(THE MONKEY ONE)
6 Febuary/ Chinese Orchestra
13 Zhi Ying
(THE ONLY CAN WIN ONE)
5 January/ Volleyball
14 Pearlyn
(THE QUIET ONE)
22 August/ Girl Guides
15 Rachel
(THE BANANA ONE)
22 June/ Symphonic Band
16 Rene
(THE STRAW ONE)
2 September/ Chinese Orchestra
17 Ru Meng
(THE TOFU-LICIOUS ONE)
8 November/ Symphonic Band
18 Denise
(THE AMIABLE ONE)
10 July/ Symphonic Band
19 Tong Wei
(THE DANCING ONE)
31 May/ Chinese Dance
20 Chloe
(THE LOUD ONE)
12 July/ Symphonic Band
21 Sandy
(THE LAUGHING ONE)
7 November/ NPCC
22 Brendan
(THE BUBBLY ONE)
4 March/ Scouts
23 Shi Lun
(THE LAME ONE)
14 November/ Chinese Orchestra
24 Daniel
(THE CURLY ONE)
26 Febuary/ Air Rifle
25 Edmund
(THE IMBA ONE)
5 May/ Infocomm
26 Chong Xian
(THE DOT ONE)
24 August/ NPCC
27 Shou Yi
(THE SLEEPING ONE)
5 April/ Choir
28 Jin Kai
(THE LOVESICK ONE)
27 May/ Symphonic Band
29 Chun Seng
(THE NIAO NIAO ONE)
28 November/ Infocomm
30 Zheng Feng
(THE CUTE ONE)
24 May/ Scouts
31 Ka Jun
(THE TANNED ONE)
25 March/ Basketball
32 Kuan Liang
(THE OTHER TANNED ONE)
7 May/ Track & Field
33 Reuben
(THE 'HANDSOME' ONE)
23 June/ NPCC
34 Zong Yi
(THE DADDY ONE)
15 June/ Chinese Orchestra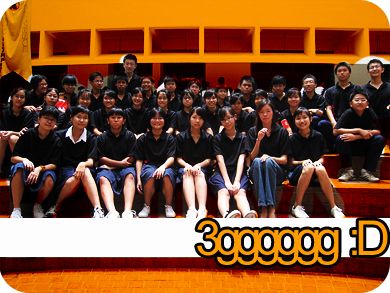 Friday, January 22, 2010
Hi kids, here's something funny to brighten up your day! :D
....
Sunday, January 10, 2010
I really like this photo haha. How's everybody? Does anyone still come here.. ._. Tomo's the first day of sh life.. 大家要加油哦! ♥
ALL I WANT FOR CHRISTMAS EAT YOU!!!
Friday, December 25, 2009
MERRY CHRISTMAS EVERYONE!!
And here is a video to brighten up your day/night/whenever you see this post. :D
*NOTE: This video is super funny. SERIOUSLY. LOL. HAHAHA
May Santa Claus bring you loads of presents this year :D
-Sandy (:
Friday, November 13, 2009
nah now tt everything is almost over...
dun forget the times tt we've had...
times lik :
n all the fun times tt we had together :D
If we could shrink the earth's population to a village of precisely 100 people
Wednesday, November 11, 2009
If we could shrink the earth's population to a village of precisely 100 people, with all the existing human ratios remaining the same, it would look something like the following.

There would be:

57 Asians
21 Europeans
14 from the Western Hemisphere, both north and south
8 Africans

52 would be female
48 would be male

70 would be non-white
30 would be white

70 would be non-Christian
30 would be Christian

89 would be heterosexual
11 would be homosexual

6 people would possess 59% of the entire world's wealth and all 6 would be from the United States.

80 would live in substandard housing

70 would be unable to read

50 would suffer from malnutrition

1 would be near death; 1 would be near birth

1 (yes, only 1) would have a college education

1 would own a computer

When one considers our world from such a compressed perspective, the need
for both acceptance, understanding and education becomes glaringly apparent.
The following is also something to ponder…

If you woke up this morning with more health than illness…you are more blessed than the million who will not survive this week.

If you have never experienced the danger of battle, the loneliness of imprisonment, the agony of torture, or the pangs of starvation … you are ahead of 500 million people in the world.

If you can attend a place of worship without fear of harassment, arrest, torture, or death…you are more blessed than three billion people in the world.

If you have food in the refrigerator, clothes on your back, a roof overhead and a place to sleep…you are richer than 75% of this world.

If you have money in the bank, in your wallet, and spare change in a dish someplace…you are among the top 8% of the world's wealthy.

If your parents are still alive and still married…you are very rare, even in the United States and Canada.

If you can read this message, you are more blessed than over
two billion people in the world that cannot read at all.
chemistry is history.
Thursday, October 1, 2009
HAPPY
CHILDREN'S
DAY
KIDDOS
AND
JIAYOU
FOR
CHEEMISTRY
TMR (:
and of course for history too!
hitlerstalingorbachevarms
raceatomicbombcoldwar
trenchwarfarebiologicalwarfarenuclearwarefare
reformsperestroikaglasnost
ussrgermanyeuropeworldwartwooooooooooooooworldoooowaronetodiealreadylahwtfbbq.
jiayou!
-jk
We're all in this together.
Thursday, September 24, 2009
Feeling healthy? :O Hahahaha hang in there everybody it's the last lap!

In This Together
Tuesday, September 22, 2009
HELLO SWEET PEAS.
Exams are in like 7 days' time and I bet it's stressing you guys out.
So here's a very adorable penguin for eu biters! :D (I hope he doesn't bite. :/)
And I just wanna add that, if any of you are getting freaked out or feeling demoralised by any recent *cough* pop quizzes *cough* or *cough* mock exams *cough*, please don't feel so!
(I have a feeling that it's only me and I'm speaking to myself. ._.)
But yeah, jiayou people because
freedom isn't that far away.
:D
Fight fight!
w/ love,
Z!
How to make sure you fail all your eoys
Saturday, August 22, 2009
Everywhere you can find tips on how to excel in your exams. But no one gives tips on how to fail them. Well, look no further! Here's exactly what you need to get what you want! :D
LA - Insist on writing a one-sided arguement. What's the point of writing a balanced arguement if in the end you're gona take one side?
HCL - Sleep through it or bring chemistry and history to study during the eoys. Only the o levels matter to you. After finishing studying or finally waking up, lament how much time you have left until end of exam.
History - You're a peace loving person. Wars never happened in your opinion. What ww2? You referring to the great singapore sale isit? Who's hitler? Your new maid right?
Physics - When you study, your brain heats up. Heating increases resistance to thinking. Hence to ensure maximum efficiency during eoys, you dont study.
Chemistry - Insist that electrons, protons, neutrons, etc. , dont exist coz you cant see them. 'Seeing is believing' is your personal motto.
Biology - Study the anatomy of all animals except humans and study the ecology of humans
Math - Dont bring calculator coz your brain can 'count as fast and as accurate'. You can even remember the exact figures of pi, which is 3.14..., erm..., 3.14..., (you pick the next number randomly, it will be less than 5 so that you can round down to 3sf.)
Most effortless way: You're a neat freak. Putting ink or graphite on paper dirties the paper. Hence, to keep the paper clean, you dont write at all.
Disclaimer: These methods are not tried out yet so there's no 100% success rate. These methods do not work on smart arses as they are too smart to fail. These methods work especially well for lazy and dumb people like yours truly.
:D
-weiqi
:)
Wednesday, August 12, 2009
This is not bad either :D